Van Horn Newhall Truck Center
Not only are we prepared to offer you the best pre-owned truck inventory between Cedar Rapids and Des Moines, Iowa. If you are in the market for a pre-owned Chevy truck, then we are the experts that can find it for you.
Our Customers Remember Great Experiences
With more than 1,600 Google Reviews, our customers realize great sales and the full-service experience that comes with buying from Van Horn Chevy of Newhall.
Take a minute and read through the reviews and you will find many customers that left our dealership lot with the truck they were dreaming about. Always do your research and find the vehicle that fits your lifestyle and budget. Then stop by our location in Newhall and we'll do the rest.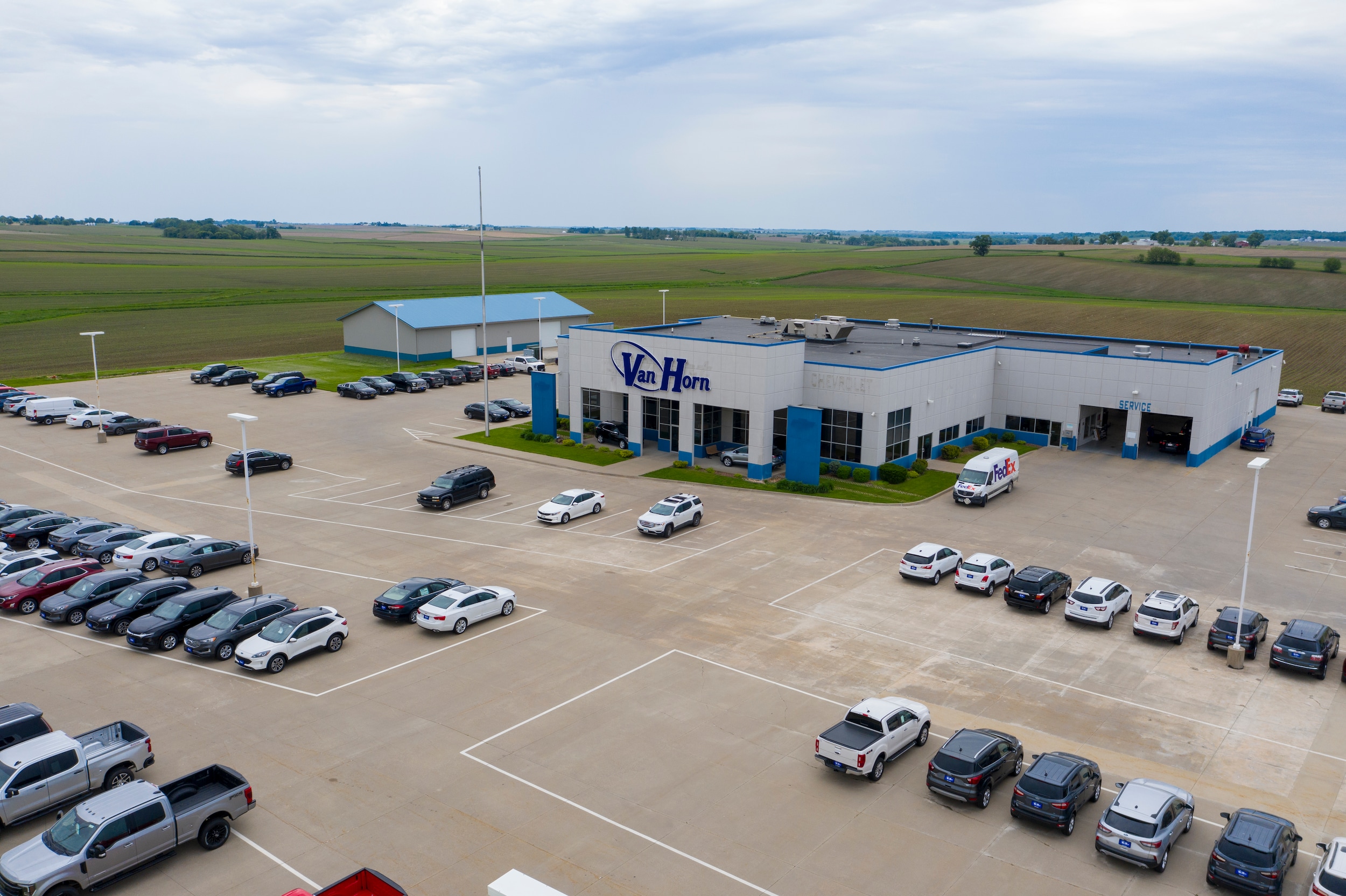 WE DO THINGS A LITTLE DIFFERENTLY.
At Van Horn Chevy of Newhall, we offer our customers the two most important things: low prices and large selection of trucks.
We have a knowledgeable sales staff who will answer questions, educate and provide information, and assist you in the decision-making process. When you get to our dealership you will see that our team members are enthusiastic, approachable, experienced, and make it their job to ensure that car shopping with us is pleasant and enjoyable. 
If you are looking to do business with a family owned dealership group that specializes in low price and huge selection, we are the best choice for you!  
Looking for Pre-owned Trucks in Newhall?
Our inventory is loaded with the best pre-owned truck deals that you are going to find on this side of Cedar Rapids. Easily browse our inventory online and when you are ready feel free to schedule a test drive right from the vehicle details page.
COMMUNITY INVOLVEMENT:
As an upstanding member of the Wisconsin business community, we are active participants in local charities, events, and activities. Our family values carry over into all we do, and we eagerly engage ourselves in opportunities to use our resources to enhance and aid the lives of others. We are very excited to join the Iowa business community, as well, and become active members in the Newhall community.
GET TO KNOW US:
Our employee-owned staff consists of hard workers, including three generations of the Van Horn family members!
Teresa Van Horn started working for Joe Van Horn Chevrolet in 1975 doing filing and clerical work. After graduation in 1984, Teresa launched the Finance Department at Joe Van Horn Chevrolet as the first Finance Manager. In 1995, Teresa became the General Manager of the dealership, and then officially the dealer. Since becoming the dealer, there have been two remodels of Van Horn Chevrolet in 1997 and again in 2010. In 2015, First Chrysler of Manitowoc was purchased under Teresa as the dealer. In 2016, Van Horn Ford of Oconomowoc was purchased under Teresa as well, and has recently become owned group wide. In her free time, Teresa enjoys running and volunteering in the community. Teresa has four sons, Patrick, Ryan, Brennan, and Casey. 
Chuck Van Horn has been operating the Van Horn Dodge store since 1987, and in 1989 he purchased an Oldsmobile dealership and dropped the Oldsmobile brand to take on the Hyundai brand in Sheboygan, WI. Since 1989, Chuck has opened 9 new dealerships with a total of 7 additional franchises. In 2007, he also partnered with Chrysler World Auto of Green Bay. Most recently, Chuck has expanded into the real-estate business, Van Horn Real Estate. Chuck is married to his wife Trina, and has a daughter, Halle. 
HISTORY:
Van Horn Automotive Group has been a family-owned business for many decades. Joe Van Horn moved his family from Chicago, IL to Plymouth, WI to purchase Wagner Chevrolet and open his first store, Joe Van Horn Chevrolet, in 1966. It was located on Factory and Schwartz streets. His son Chuck, looking back, recalls these being challenging times, with six children and very little money to start their business. In 1977, Joe Van Horn built the Chevrolet dealership in its current location on Eastern Avenue.
Chuck Van Horn has been operating the Van Horn Dodge store since 1987, and most recently has added the Fiat brand to Van Horn Chrysler Dodge Jeep Ram Fiat of Plymouth. He opened Van Horn Hyundai in Sheboygan in 1999, adding the Mazda franchise in 2012. He built Van Horn Hyundai of Fond Du Lac in 2002 and partnered with Chrysler World Auto of Green Bay, WI in 2007. In 2010, he opened Sheboygan Budget Auto which features vehicles under $8,000 and offers sub-prime financing to people with less-than-stellar credit. In 2012, Dane County Auto and CARite of Milwaukee were added to the Van Horn dealership group. In 2014, Van Horn added Van Horn Latino to engage Milwaukee's rich Hispanic community in the car buying business. In 2015, First Chrysler of Manitowoc was added to the Van Horn brand. In 2016, Van Horn celebrated 50 years in business, as well as adding the Van Horn Truck Center and Van Horn Ford to the dealer group. Most recently, we have added Van Horn Chevrolet of Newhall, IA to the Van Horn Automotive Group.
We know your time is valuable. We are sure you will find our site a fast and convenient way to research and find a vehicle that's right for you. If we can be of any assistance while visiting us online, send us an email and we will promptly reply.